The ACCC's decision to oppose Transurban's EastLink bid shows it has become serious about toll road competition.
APAC infra chief Bruce Crane talks about remaining core-focused while adopting an agile approach between regional markets.
An 'end to privatisation' message helped elect New South Wales' new Labor government – not for the first time in Australian state politics.
Brookfield's Global Transition Fund will acquire Origin's Energy Markets business, while MidOcean will take on the firm's LNG assets.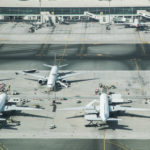 The bill to privatise the French airport operator is unlikely to return even in the event of an economic turnaround.
With growing scrutiny of rising debt levels in Australia's state governments, the stage is set for another round of privatisations.
The government believes worsening borrowing conditions and lower traffic on the roads offered failed to attract investor interest.
Investors are unhappy about the short time given to prepare the bids, which are due 14 February.
The fatal collapse indicates a public-private failure. But confronting the formidable challenges of maintaining ageing infrastructure will require more – not less – public-private cooperation.
I Squared, Brookfield and CPPIB are among the high-profile investors considering a bid for the 30-year concession of eight toll roads, Invest India says.