This article is sponsored by Digital Colony

There was a spike in demand for connectivity and computing power as the world shifted to remote operations last year. Did digital infra stand up to the challenge?
Ben Jenkins: Overall, digital infrastructure stood up well. We didn't see any widespread outages or significant problems with connectivity. There may have been some bandwidth constraints, but by and large, the system performed exceptionally well. As a result, many of the trends we were seeing before the pandemic – teleworking, remote learning, remote fitness, home delivery services – will now continue at an accelerated pace.
Is that acceleration going to create additional investment opportunities?
Kevin Smithen: As we begin to prepare for a post-covid world, we're going to see a significant rearchitecting and ultimately rebuilding of digital infra networks. Historically, digital infra has been focused on urban financial centres – cities such as Tokyo, Hong Kong, New York, Chicago, London and Frankfurt. What we see now is that more digital infrastructure needs to reside near the end user. There will be more working from home on a long-term basis.
Companies like Microsoft and Facebook have announced they are moving to a hybrid workforce, targeting an important percentage of the employees to work remotely on a permanent basis,  so we need to provide long-term solutions for all the software development that will be required. That will mean more fibre, more towers and more data centres in tier-two and three cities, suburban locations and potentially even rural markets. That's what we expect the lasting impact of covid will be.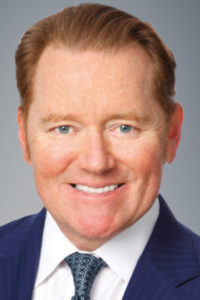 Marc Ganzi: 5G, in particular, will require investment in more towers, more small cells, more data centres and more fibre than any other technology. The mission is to deliver a thousand times more capacity, connecting more devices and reducing latency to less than one millisecond, while maximising spectrum efficiency as the world accelerates to a hyper-connected society.
What makes an attractive data centre deal for you, right now?
BJ: We still like hyperscale businesses serving the likes of Amazon, Microsoft and Google, particularly in emerging markets. But the most exciting area right now is edge data centres. That's all about getting content and computing power closer to the end customer. We've a number of edge initiatives under way with existing companies, as well as establishing new platforms. There are many benefits to edge data centres, including lower latency, because you're closer to the end user, and lower cost, because you save on transport.
KS: The lower latency point is important. Our customers, whether that's the mobile network operators or hyperscale cloud service companies, are all looking to launch low-latency products. These could mean autonomous cars or robotic surgery or any number of AI functions. If a deer is crossing the autobahn in Bavaria and an autonomous vehicle has to pull that data from somewhere in London before it swerves left, right or carries straight on, the deer is going to be hit. That information has to be stored somewhere closer to the car – at small cells lining the highway or located in suburban Munich, but not London or Northern Virginia. These low latency applications are a powerful driver for edge data centers and dark fibre.
All of this infra needs to be connected by fibre. What opportunities do you find most interesting there?
KS: Dense metro fibre is the connective tissue that touches all other segments of digital infra. For us, it's all about getting as many connections on that fixed capital investment as possible – driving as many use cases as you can. Those use cases could involve connecting hyperscale data centres, edge data centres or small cells. It could mean enterprise connectivity, or connectivity for hospitals or schools. It could be used to support fibre-to-the-MDU or provide backhaul for macro cell towers surrounding the city. The opportunities are almost endless, but you need an experienced operating team.
Are there new areas of digital infra that will become investable propositions further down the line?
BJ: We've already made an investment in digital outdoor advertising in the UK, which is an area we like a lot. I believe adjacencies will open up within the digital infra universe, with things like satellites and sub-sea cables. Beyond that, the real driving force is demand for a robust, low latency network to support new applications. Autonomous vehicles are the obvious one. But virtual and augmented reality also require very high bandwidths and extremely low latency to function properly.
Digital infra has surged in popularity. What impact is that having on competitive dynamics?
BJ: The focus on digital infrastructure has increased, in part, as an alternative to other sectors of infrastructure which haven't performed so well, namely energy and transportation. As a result, we're seeing additional interest and more capital coming in. But we believe the combination of the underlying demand drivers and our dedicated digital infrastructure strategy means we'll continue to be differentiated relative to these new players.
KS: We tend to compete against the large strategics in each of our verticals. In small cells, that means Crown Castle. In towers, it's SBA, Cellnex and American Tower. In fibre, it's Crown Castle and CenturyLink, and in data centres it's Digital Realty and Equinix. That's not to say that we never compete against private equity or direct infrastructure investors. But we typically win deals because we source outside of auctions and because we have 25 years' experience of running mission critical network infrastructure for some of the world's largest and most profitable companies.
Those companies think of us as strategic partners and operators, not as financial sponsors, and so when those customers expand into new sectors or geographies, we're typically one of three or four global strategic players that they allow to bid. That's why we are relatively immune from the low cost of capital, direct investors moving into the space.
MG: Thirty years of building network architecture comes with the opportunity to sit in the front row of the progression of technology – from analogue to digital PCS to 3G, 4G and now 5G. This operator-investor expertise is a real differentiator and speaks to the
value-add that Digital Colony can bring to its customers and partners.
What other challenges, or risks, are associated with investment in this sector?
BJ: One of the challenges we face is the underlying health and profitability of our customers, which in the case of towers and small cells, means the large, global network operators. Some of those are facing real financial pressures. On the one hand, that can be helpful, because we can step in to fund their capex requirements. But, on the other hand, there's still a lot of internal investment needed to expand their networks. In areas where the underlying markets are hyper-competitive to the point where it's difficult for any of these players to earn a reasonable return on capital, that's a difficult environment for us. Meanwhile, other considerations include regulatory policy and, of course, interest rates and overall economic growth.
What about technology risk?
KS: In general, we're tech neutral. The tech decisions, whether that is servers in our data centres or radio equipment on our towers, are made by the customers themselves and they bear the risk. We just provide space and power – the physical layer of infrastructure. There are exceptions to that – small cells or managed service data centres. But that's a very small part of what we do. We don't carry any technology risk on the majority of the portfolio.
What does the future hold for digital infrastructure?
BJ: The underlying demand drivers are profound and so we're very confident that this will continue to be an attractive sector for years and even decades to come. And investing in that future will require specialist expertise and capabilities that are very different to those of traditional infrastructure managers.
KS: We expect that this rearchitecting and ultimately rebuilding of global digital infrastructure will take at least another 10 to 15 years in developed markets and 15 to 20 years in emerging markets. There's a lot of runway left in the sector. And because of the resiliency that digital infrastructure has demonstrated during the crisis, the cost of capital for the sector has come down meaningfully as people recognise that it carries core, or core-plus risk characteristics. In the region of $400 billion a year is spent on digital infrastructure, excluding refinancings. As such, digital infra no longer a diversification tool within infrastructure. It's become a separate asset class in its own right.
How is Digital Colony planning to take advantage of the surge in demand for digital infra?

MG: We have over $25 billion invested across 19 operating platforms. We have this operating experience, this proprietary dealflow and these great customer relationships and so, of course, we're always thinking about how best to expand.

Last year, we expanded into developed Asia, with the opening of an office in Singapore. But in addition to expanding geographically, we're also expanding across the capital structure. We've hired a team, led by Mike Zupon and Dean Criares, both distinguished credit investors, to lead a digital infrastructure private credit strategy, providing financing solutions in different parts of the capital structure than those that have been addressed by Digital Colony in the past.