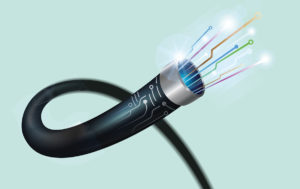 As millions of office workers made an enforced switch to home working in 2020, the need for fast and reliable home internet connections became more obvious than ever. Lennart Blecher, head of real assets at EQT, reminded us in July 2020 that "the economic and social effects of covid-19 would have been significantly worse" without the improvements to fibre infrastructure made in recent years.
In practice, however, the rollout of fibre-to-the-home has been uneven. France has raced ahead, with almost three million new FTTH subscribers in the year to September 2020. Aveen Ghurbhurn, investment director at Vauban Infrastructure Partners, tells us that the creation of localised monopoly networks through a public-private partnership programme had been a "game changer" for FTTH in the country. "The regulatory framework allowed us to create a business model that was balanced and that helped us deploy FTTH in rural areas," says Ghurbhurn. "It was a fabulous instrument that made fibre in rural areas now very well deployed."
Other European countries are starting to catch up. The UK has one of the lowest FTTH connection rates in Europe, but Chris Rigobon, director at Northleaf Capital Partners, told Infrastructure Investor in February that "with subsidies available for rural broadband, you have a significant amount of investment flowing into the space. It is effectively a land grab until the subsidies run out or the entire country has new infrastructure".
UK telecoms regulator Ofcom confirmed in March that fibre broadband providers would be able to make a "fair return" over their whole investment period and said a cost-based return system would not be established for at least 10 years. Philip Jansen, chief executive of market incumbent BT, promised to "build like fury" in response to Ofcom's decision, with a target of 20 million connections by the middle of the 2020s.
Risks remain for fibre
Yet S&P Capital IQ data shows EBITDA multiples for fibre infrastructure and broadband businesses at 6.8x to the end of 2019 – significantly lower than wireless towers and data centres, at 26.5x and 28.3x, respectively.
Not all investors are convinced that FTTH provides a sufficiently dependable return to justify the risks. "In the home fibre market, operators are typically relying on customers signing up after they have built the networks. They are also relying on customers paying for more than just basic services, with spend on add-ons highly discretionary," pointed out Spence Clunie, managing partner at Ancala Partners, in September. "We do not really see that as an infrastructure investment."
And there are still questions whether fibre-to-the-home will remain the dominant technology for high-speed internet connections. "The long-term visibility on fibre is good, but the technology is constantly evolving," Stephen Nelson, asset management managing director at Infracapital, noted in April. "While there is no such thing as a fully, future-proofed industry, investors should be wary of taking technological bets."