First look
Congress approves Third Eye on US infra
Not too much bridges the divide between blue and red in US politics today but, as with November's passing of the bipartisan infrastructure law, the asset class has brought together the House and Senate again.
Last week, the Strengthening American Cybersecurity Act of 2022 was approved by the House, following initial unanimous approval by the Senate. Reacting in part to last year's Colonial Pipeline hack and to a potentially increased cyber-threat from Russia, the bill requires critical infrastructure companies to report ransomware payments within 24 hours and cyberattacks within 72 hours.
"Cyberattacks against federal networks and critical infrastructure companies – including oil pipelines, meatpacking centres and wastewater treatment plants – have disrupted lives and livelihoods across the country. That is why, for months, I have been leading efforts to fight back against cyber-criminals and foreign adversaries who launch these incessant attacks," said Senator Gary Peters, who helped introduce the bill.
Now, who did he mean by "foreign adversaries"?
Greenbacker's debut 'flexible capital' fund closes on $142m
Greenbacker Development Opportunities Fund I – the first private equity fund launched by the New York-based renewables group Greenbacker Capital – closed last week on $142 million, $8 million short of its $150 million hard-cap.
The fund was launched in October 2020 to provide sustainable infra companies with access to flexible capital and Greenbacker's technical asset management team. Eight companies have been invested in thus far, in sectors including solar PV, hydropower and battery storage. Total capital deployed to date is $80 million, with $10 million of co-investment having been generated as well.
Investors in the fund include Aether Investment Partners, abrdn, the Montgomery County Employees Retirement System and the pension fund of Ontario Power Generation, with the latter's $40 million commitment the largest.
GDEV targets growth-stage companies, which means "more grey hair for us, but it's worth it", according to a statement from managing director Ben Baker. "Our partners really like that we actually have the hands to be hands-on for them," he added.
Certainly, with power generation, many hands make light work.
BAM and the name is gone
Global infrastructure investor BAM PPP, the investment arm of Dutch giant Royal Bam Group and 50 percent owned by pension fund PGGM, has changed its name.
The firm will now be known as Invesis, in a move the firm said "reflects a change in ambition and direction for the business", as it diversifies to focus more on digital infrastructure, the energy transition and sustainable infrastructure in general.
It will remain fully committed to PPP projects, it said, but will move into new markets including North America and Australia, focusing on greenfield PPP opportunities. Its current portfolio has a capital value of €12 billion and includes projects such as Afsluitdijk in the Netherlands, Silvertown Tunnel in the UK, Cross River Rail in Australia and University Hospital Schleswig-Holstein in Germany.
Essentials
Get moving for the social mobility initiative
We often write about infrastructure's impact on communities, people's quality of life and the investment industry's social licence to operate. Thanks to the Infrastructure Industry Foundation, the infrastructure investment industry has a chance to act on all of the above by attending IIF's gala dinner that will be held at the Londoner Hotel in Leicester Square on 21 April. Working in partnership with the Sutton Trust, the UK's largest social mobility charity, IIF aims to develop a programme that increases social mobility across the industry.
Since 1997, the Sutton Trust has championed the cause of social mobility from birth to the workplace has the chance to succeed in life.
Firms or individuals wishing to support the programme can do so by offering work experience and internships. For more information or to reserve a table, contact info@infrafoundation.co.uk.
Initially created to fund cancer research after infrastructure investment professional Ella Pinney was diagnosed with adenoid cystic carcinoma, the IIF's mission is to raise funds for worthy charitable causes. Its supporting members include Antin, Aviva, Campbell Lutyens, DWS, EQT, GIP, Infracapital, Stonepeak and many others.
Grapevine
"We felt that helping to solve 10 percent of Australia's emissions [while] creating value for shareholders… was an important thing to do"
Head of transition Mark Carney stood by Brookfield's twice-rejected bid for energy giant AGL Energy at the Australian Financial Review's 2022 Business Summit 
Who's hiring
Quinbrook adds to development team
Renewable energy specialist Quinbrook Infrastructure Partners has made another hire for its growing team, adding John O'Brien as a senior director at Private Energy Partners, the firm's development arm.
PEP was established to originate projects for future investment by Quinbrook and its managed funds, focusing on utility-scale renewables, distributed energy and grid infrastructure. O'Brien joins from Siemens Financial Services, where he was a managing director with responsibility for originating deals in the renewable energy and thermal power markets, part of a team that financed more than $20 billion of energy projects over 14 years, per his Linkedin bio.
Last month, Quinbrook appointed Amazon Web Services' head of renewables and energy procurement, John Lucas, to lead its data-centre strategy, with a focus on making the digital assets carbon neutral.
LP watch
JBIC helps Ardian's clean hydrogen fund close in on target
The Clean H2 Infra Fund, billed as the world's largest clean hydrogen investment platform, has raised another €100 million, adding to the €1 billion first close announced in December and just €300 million short of its target.
The fund, which is managed by Hy24 – a joint venture between Paris-based fund manager Ardian and FiveT Hydrogen, a clean hydrogen investment platform – secured a €100 million commitment from the Japan Bank for International Cooperation, matching an earlier investment received from Caisse Centrale de Réassurance, a French state-backed reinsurer.
The Clean H2 Infra Fund, which qualifies under SFDR's Article 9, will invest across the entire hydrogen value chain. It is understood that roughly 50 percent will target Europe, the Middle East and Africa, while the remainder will be evenly split between the Americas and Asia.
According to market sources Infrastructure Investor previously spoke to, a final close on the fund's hard-cap of €1.8 billion is expected by mid-2022.
Deals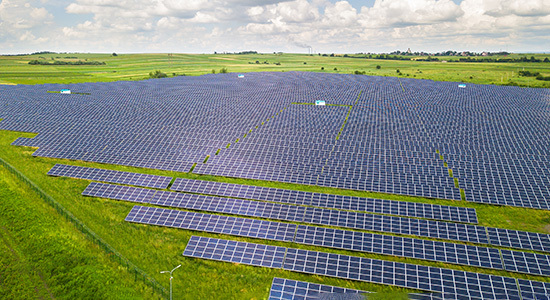 Ares' solar 'sophistication'
Last week saw the announcement of a $600 million equity investment by Ares Management Corporation and potential co-investors in SB Energy, SoftBank Group's tech-based solar energy company.
SB Energy – founded in 2019 – already has constructed nearly 1.7GW of energy production capacity. And growth, according to CEO Rich Hossfeld, is on the horizon: "We've also amassed a pipeline of around 4GW of renewables and about 8GWh of storage. And we plan to continue to aggressively grow that with an objective of having 10GW operating or under construction by the end of 2025."
Both firms agree that SB Energy's use of AI and other outside technology places the firm on the cutting edge. Mike Roth, a partner in Ares Infrastructure and Power, told us: "If you just look at the past 10 years with solar, a lot of the new installations that were completed were projects with 20-year, long-term contracts with utilities for 'as generated' power. Contracts are becoming shorter and investors and management teams, in order to capitalise on those opportunities, need to have a view on power markets as well as sophistication around power marketing."
The gauntlet, then, has been laid down.
Macquarie doubles down on solar
Rising to this challenge is Macquarie Asset Management, which is set to acquire French photovoltaic renewable energy producer Reden Solar for €2.5 billion.
Part of a consortium that also comprises British Columbia Investment Management and MEAG, Macquarie will buy the company from InfraVia Capital and Eurazeo, which held a 53 percent and 47 percent stake in Reden Solar respectively.
Macquarie's stake in the company – which owns a 762MW operational portfolio of solar power plants in Europe and Latin America, and has a further 15GW worth of projects in the pipeline – will be via its Global Infrastructure Fund and Green Investment Group Renewable Energy Fund 2. It will be the fourth investment for the latter fund, following another recent acquisition of a French solar group in Apex Energies Group.
Hailing Reden Solar's expanding footprint, the firm's head of France, Benelux and Greece, Stéphane Brimont, said the company's "geographically diverse platform" provided "an exceptional opportunity to scale up its development pipeline to help meet net-zero targets across Europe".
---