This article is sponsored by QIC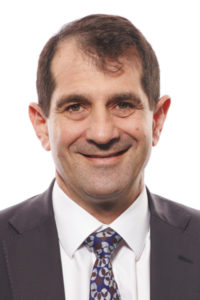 Could you talk about some of the mega-trends you see today that are shaping the future of the infrastructure asset class?
Our investment process is enabled by our thematic and sector-centric investment strategy. This strategy is driven by industry mega-trends, which underpin and inform our investment pipeline. We articulate these as the three 'Ds' – decarbonisation, decentralisation and deglobalisation.
The three Ds are supported by six secular trends: decarbonisation, decentralisation, deglobalisation, demographics of an ageing population, digitalisation and democratisation. These are particularly pronounced in Australia given some of its distinct characteristics relative to the rest of the world.
We believe decarbonisation presents generational investment opportunities. As the world commits to net-zero emissions by 2050, the energy sector must be transformed. This transformation will involve a rapid increase in the use of clean energy technologies, specifically: electric vehicles, battery storage and renewable energy production (solar, wind and hydrogen). These technologies have the potential to grow rapidly as they occupy a greater portion of total global energy production. They can also, in turn, turn drive asset resilience to climate change, making it an attractive risk-return equation for institutional investors.
As the electricity value chain evolves to incorporate more renewable energy and storage solutions, many potential areas of opportunity arise, especially as the decentralisation of the electricity grid comes full circle. Decentralisation is driven by technology, climate and customers.
Within decentralisation, distributed energy is a key emerging infrastructure subsector, reflecting the reduced reliance on supply from centralised, capital-intensive electricity systems. We believe distributed energy is gathering significant momentum through the convergence of several major underlying trends, including technological innovation, environmental resilience, customer empowerment and regulatory evolution.
The fragility of global supply chains was exposed with the onset of covid-19, propelling a trend of continued investment in onshoring and supply-chain resilience. We believe core features of deglobalisation will involve the realignment of supply chains from a 'just in time' perspective to a 'just in case' one. It will focus on mitigating geopolitical risks and single points of failure along the supply chain. While covid-19 created significant supply-chain disruption, ongoing geopolitical risks (Ukraine and Russia) have catalysed and continue to drive this disruption.
How much of a consideration is global inflation for institutional investors? How can this be incorporated into a long-term investment strategy?
When you examine the macro factors that affect infrastructure (real interest rates and GDP levels), inflation is the most significant at present. We believe inflation is being affected by four things: decarbonisation, deglobalisation, demographics of an ageing population and dominance of fiscal policy over monetary policy.
In the wake of the pandemic, unprecedented stimulatory fiscal and monetary policies were unleashed upon the world at the same time as global supply-chain issues became a fixture of the global marketplace. This confluence of demand-side and supply-side shocks means global inflation is now a primary consideration for institutional investors.
We can see from the 1970s that inflation peaked three times, interlaced with about four recessions. There are learnings from the 1970s that will be important to remember in the current evolving global situation, as we expect inflation to remain higher for longer. We believe the higher leverage in the system today, alongside higher asset values, will make the deflationary process for central banks more treacherous and painful to navigate.
Infrastructure assets are long-term investments by nature. Returns over a longer horizon are projected to be resilient for investors with a diversified infrastructure portfolio amid higher inflation and rising interest rates.
What sort of risks and opportunities are being created by climate change and the energy transition for infrastructure portfolios?
The pervasive effects of covid-19, global warming and geopolitics are shifting the bedrock of how countries and companies have operated to date. The trade and energy status quos are no longer compatible for the security of global supply chains and sustainability.
The scale of action required to address climate change will have significant and escalating impacts on infrastructure. Climate considerations should be integrated at all stages of the investment process to maintain climate-resilient portfolios. We believe actively managing assets has never been more important.
International investment preferences are shifting – QIC's global client base has a significant capital appetite for clean energy infrastructure. Australia is one of the leading suppliers of critical mineral commodities for the energy transition, while also undertaking its own energy transformation. It is at the forefront of the evolution of the electricity value chain, evidenced by the take-up of distributed solar where it has one of the highest per capita rooftop solar penetrations in the world.
Additionally, we believe Australia's geographic and trade ties to the fast-growing Asia-Pacific region represent an attractive investment destination for long-duration assets. This is underpinned by repositioned supply chains, its stable and open economy and an attractive infrastructure investment pipeline.
As a lead investor in Tilt Renewables, Australia's largest wind and solar generation owner and operator, QIC is experienced at delivering and actively managing clean energy infrastructure.
Directly controlled emissions (Scope 1 and 2) are an important consideration for many infrastructure assets. However, emissions across the entire value chain (Scope 3) can be more significant in the long term and are key indicators of climate transition risk.
A crucial challenge centres on capturing and understanding the wide range of climate-related risks and opportunities, as well as their potential impacts across various investment types. Utilising our sustainability and climate resilience/vulnerability assessment framework, we are seeking valuable insights into risks and opportunities to guide our action plans for new and existing assets.
Demographic change is another long-term trend that economies must grapple with. What sort of impact is this having on social infrastructure such as healthcare systems?
The pandemic broadcasted the pressure on public healthcare systems across the globe – ageing demographics are only increasing this pressure. The secular tailwinds of increased chronic illness and disease are changing the way global healthcare services are delivered. With private investment and a commitment to improving outcomes, we believe healthcare can provide an exciting adjacency to infrastructure's more traditional sectors. Thus, providing investors with access to thematic growth and portfolio diversification.
We see increased segmentation, specialisation and personalisation within the healthcare industry. As a nascent subsector of social infrastructure, the competitive landscape for day hospitals remains favourable for long-term investors who have committed the time and resources to really understand the market fundamentals and respective individual asset characteristics.
Could you talk about the increasing use of automation and AI within infrastructure and how this will enable more geographically diverse assets?
We believe technology will play an increasing role in infrastructure, positively enhancing the ability to optimise assets by running them more efficiently and building them in a more affordable manner.
In healthcare, for example, there are four key areas where AI comes into play. AI can help you analyse patient data, deliver more impactful care, fast-track drug development and provide unbiased analysis.
While infrastructure may have suffered from historical underinvestment in technology, it can adopt a more innovation-centric attitude. We see a huge opportunity for the infrastructure sector to realise the benefits of intelligent 'infratech'. QIC is making strides by liaising with university research centres and promoting emerging technologies into our portfolio companies.
What are some of the driving forces behind decentralisation within infrastructure? And what might the impact of this be going forward, particularly in terms of distributed energy?
Decentralisation is a paradigm shift – decentralised assets lead to favourable price signals, more tailored solutions for customers, and higher levels of resilience with assets being more distributed, delivering increased security of supply.
We believe distributed energy assets are key to delivering essential, sustainable and cost-effective energy services to consumers in the future. Investing in this sector requires an understanding of existing and new hybrid energy systems, applicable regulatory regimes and the technological, social and political forces shaping its current evolution.
QIC continues to make significant commitments in this area through its Australian distributed energy platform Pacific Energy, follow-on investments in the US distributed infrastructure platform Generate, and the 2021 acquisition of CenTrio, the largest pure-play district energy platform in the US.
How can investors take advantage of the capital expenditure boom predicted for the coming years?
Underpinned by the energy transition, roll-out of 5G infrastructure and electrification of transport, global infrastructure spending is expected to nearly double by 2040 to an average investment need per year of $4.6 trillion, according to McKinsey.
The mega-trends we have discussed represent fundamental changes investors must be aware of. Active asset management and stakeholder engagement will need to be prioritised to ensure these changes are not overly disruptive. These innovations will take time to reach maturity, so stranded asset risks will need to be evaluated.
We believe infrastructure is going to require more active management and oversight than perhaps it has done for the past 10 years. If you are an incumbent, it is important to embrace the coming changes, and the more volatile macro environment, to adapt appropriately and portfolio position.
Pacific Energy's Esperance Renewables Hub

Going off-grid

Decentralised energy is being used to power the mining industry and remote townships in Australia

QIC acquired Pacific Energy, an electricity generation business that provides power solutions to the Australian resources sector and remote communities, in 2019. The company specialises in the development, ownership and operation of remote power generation facilities across the country. Current projects include off-grid generation facilities for remote mining operations, microgrids for remote townships and grid-connected renewable and gas power generation.

Pacific Energy owns and operates over 40 decentralised power assets with a total contracted power generation of over 500 MW. The company has helped to provision integrated renewable solutions – such as wind, solar and batteries – for townships like Denham and Esperance. "Pacific Energy is at the heart of a transition towards a hybrid, decentralised power delivery system that is inclusive of renewables and energy storage," says QIC's Ross Israel.
For more information: https://www.qic.com/investment-capabilities/infrastructure/-/media/CADEEA5639E14F2CAC0B2FD75D489485.ashx