Home
Authors
Posts by Eduard Fernandez
However, experts agree country is set to play a major role in the development of renewables across Asia-Pacific.
The Chinese investment bank's first fund closed the acquisition of a 7.16 percent stake in the Jinan-Qingdao high-speed railway line in October.

The $1.6bn project is being jointly developed with Thailand´s Gulf Energy Development, and has been backed by a consortium of 16 lenders.
Only 40% of the debt issued during Q3 of this year met international criteria on green finance.
The fund manager will use its hands-on approach to expand into developing economies, vice-chairman Jim Yong Kim said.
Panellists say financing renewable projects is becoming more difficult due to slowing economic growth in the country.
The firm is part of a consortium of 20 international and local lenders that will provide project financing for the Macquarie Capital-backed Formosa II.
The development bank hopes the loan will catalyse private capital into the country's infrastructure sector which faces a gap in excess of $70bn per year.
JIDA Capital Partners is in talks with potential anchor investors to start raising the vehicle alone during the first quarter of next year.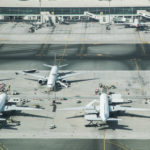 The three firms have each acquired a 26.3% stake in the airport's holding company for a total of $1bn.