Home
Authors
Posts by Jordan Stutts
The firm seeks to draw climate-friendly investors in Europe after committing BEP IV to EU sustainability regulations.
The impact of a new SEC climate disclosure proposal for publicly traded companies could be felt in private markets.
The private markets firm has set new sustainability commitments alongside a strategy, led by Olivia Wassenaar, to invest in the 'decarbonisation of industry'.
The North American firm is seeking $400 million for its successor vehicle to a strategy targeting 'catalytic' sustainable infrastructure investments.
Panelists at our New York Forum described how impact investments targeting the environment can have negative social implications.
Although far from final, the US president's infrastructure plan has been criticised as being too broad in its definition of the sector on the one hand, and not offering 'nearly enough' on the other.
President Joe Biden's stance on US energy policy differs significantly from that of his predecessor. But whether, and to what extent, that stance will shape the National Environmental Policy Act that is currently under review remains to be seen.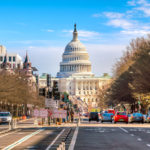 Yesterday's announcement marks the first step in a three-month conversation over what will be included in the plan's final version.
A call for a 'shockingly innovative' proposal to develop the state's latest toll road project hints at the future of project delivery.
The vehicle is a first of its kind in Brazil's infra market and is investing in operating renewables and power transmission assets.